¡ª¡ª In the Anniversary Memorial of Rongxiang Xu

¡¡¡¡You are destined to be one of our beloved who will be deeply missed in our whole lifetime. We will draw on strength of stepping forward from your universal love...
On April 9, 2016, Rongxiang Xu¡¯s anniversary memorial was held to dearly cherish the memory of him.
All the MEBOers and Dr. Xu¡¯s best friends gathered together to miss him with gratefulness in heart. Meanwhile, the achievements MEBO achieved and the dedication and efforts MEBOers contributed to what he has wanted and loved in the past year were presented to pay homage to him.


¡¡¡¡Our achievements of last year is telling Dr. Xu that the international development of regenerative life science is unstoppable: The launch of Clinton Global Initiative commitment:¡° From Urban to Rural: Training Doctors on Moist Exposed Burn Therapy (MEBT)¡± , the establishments of Chinese Red Cross Foundation Rongxiang Xu Regenerative Life Non-profit Fund , the Rongxiang Xu MD Center of Regenerative Therapeutics at BIDMC of Harvard Medical School and Rongxiang Xu Center for Regenerative Life Science at USC Davis School of Gerontology, the opening of Global Conference for Collaboration and Development on Regenerative Life Science and the participation in the China partnership network of United Nations ¡°every woman, every child¡± movement, etc, representing we are stepping towards becoming an internationalized MEBO.

¡¡¡¡The sentimental A Tribute to Rongxiang pours out our love and sadness, determination and persistence and also our confidence and glory towards the future. Every word spoken was filled with deep affection, which resonated the heartfelt aspiration of all the MEBOers that "you have never left, you are in every place where we need you; you stay around us, like a fountain of energy. Successors of regenerative career are taking more powerful actions to make your every wish come true. You are a permanent resident in our hearts where we will always miss and love you. Please take a concern-free ride to paradise. Your dream of science will be inherited by your followers. You must be smiling in the heaven, seeing people in the world are so respectful to you and the science you founded.

¡¡¡¡Mr. ZHANG Zheng-yu, President of Hi-tech Wealth said it¡¯s comforting to see Rongxiang¡¯s career has achieved new development. We are beneficiaries but also facilitators. Mr. ZHANG Zheng-yu has donated RMB 999,900 yuan to CRCF Rongxiang Xu Regenerative Life Non-profit Fund, with the hope that regenerative career can realize continuous development and benefit more people.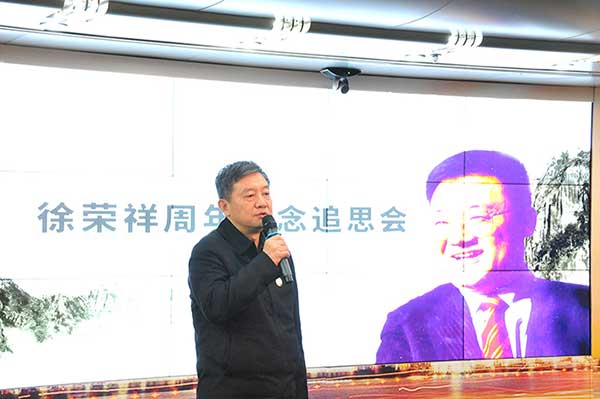 ¡¡¡¡Mr. ZHAO Zhao, Secretary of Disciplinary Inspection Commission of Aluminum Corporation of China conveyed a common feeling, saying that Dr. Xu¡¯s voice, figure and career occasionally emerge unconsciously in his mind and Dr. Xu is a true man remembered in our hearts.


¡¡¡¡Mr. SUN Shuo-peng, Secretary of CRCF, said Dr. Xu is an outstanding doctor and great scientist. He has innovated the technology of human life restoration. More importantly, he is a great humanitarian and spends his short but glorious life creating an example of humanitarianism and introducing scientific technology into humanitarian protection.


¡¡¡¡Mr. SHAO Qi-hui (and his wife), former director and secretary of party leadership of State Administration of Machinery Industry, Mr. ZHANG De-lin (and his wife), former executive deputy secretary of Party Working Committee of Central Government Departments Mr. WANG Ping ( and his wife), director of Party Working Committee on Aging of Central Government Departments, Mr. ZHAO Zhao (and his wife), secretary of Disciplinary Inspection Commission of Aluminum Corporation of China, Mr. WANG Ke-ying, deputy party secretary of Beijing Emergency Medical Center, Ms. MAO Xun, former vice president of Peking University People's Hospital, Mr. LIU Feng, former chief editor of China Industry and Commerce News, Mr. ZHANG Li (and his wife), president of Beijing Sanjing Creation Science & Technology Group, Ms. ZHU Ya-jing, former vice director of CPPCC Newspaper "Mission¡± editorial office , Mr. SUN Shuo-peng, secretary of CRCF, Mr. ZHOU Kui-qing, director of CRCF and Ms. WU Dan, project director of CRCF were all present together with all the MEBOers, once again, to cherish the memory of Dr. Xu and review and prospect MEBO's development and future.


¡¡¡¡On April 14, 2016, the construction of ¡°Rongxiang Xu Memorial Hall¡± in the United States will be officially initiated. On the day of April 9, MEBOers and Dr. Xu¡¯s friends expressed their love and kindness to ¡°Rongxiang Xu Memorial Hall¡± by spontaneous donation, contributing to its construction and conserving their memories towards Dr. Xu in every piece of the hall. In order to fulfill the wishes of more MEBOers and MEBO friends, this donation activity in MEBO headquarter will last until April 15 and all the donations will be used in the construction of Rongxiang Xu Memorial Hall.