December 18, 2021
Celebrating the 30th Anniversary of Shantou MEBO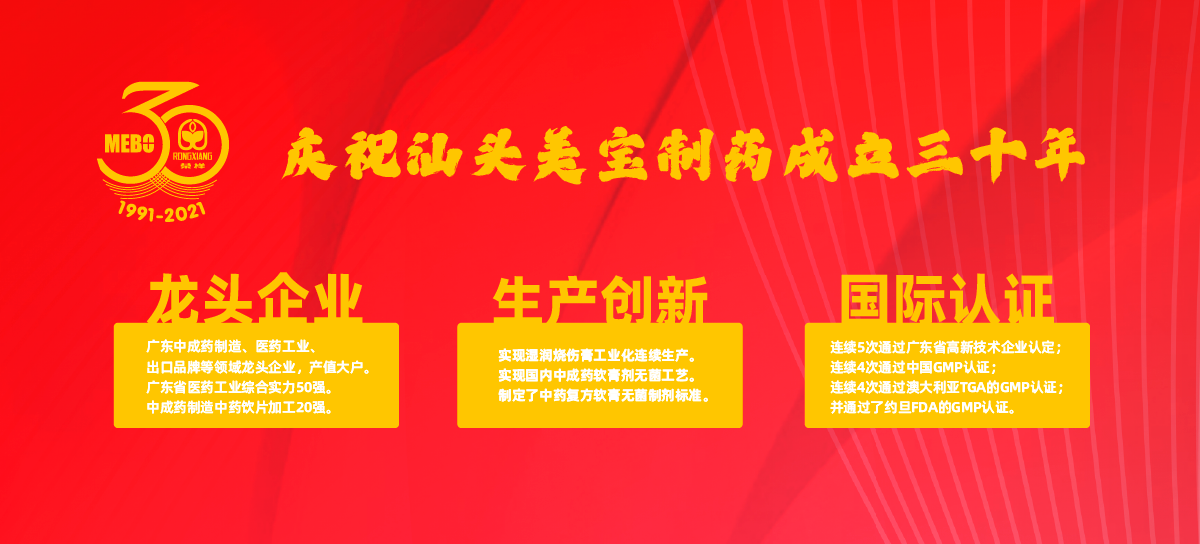 December 17, 2021 marks the 30th anniversary of the establishment of Shantou MEBO.
  30 years is a historical milestone for a company. During the past 30 years, Shantou MEBO has witnessed and participated in many great events, Chinese medical development has mingled with China's reform and opening up and Chinese enterprises have grown stronger and become more innovative.
  Shantou MEBO was founded in 1991. It is a high-tech pharmaceutical enterprise of MEBO Group and located in the Shantou Special Economic Zone. As one of the largest ointment manufacturers in China, it boasts an annual output of hundreds of millions of tubes. It is mainly engaged in the production, R&D and technology promotion of MEBO invented by Professor Rongxiang Xu.
  Shantou MEBO not only focuses on the application of traditional Chinese medicine, but also devotes itself to TCM innovation.The core product of Shantou MEBO is Moist Exposed Burn Ointment. In Shantou MEBO, innovation runs through the whole process of its production, ranging from product design, manufacturing, quality control. Shantou MEBO combines traditional and modern pharmaceutical manufacturing technology, through which it not only makes the production standardized, but also ensures the aseptic manufacturing of Chinese patent ointment for external use.
  Shantou MEBO has been pursuing high quality and committed to fully complying with international standards. It has adopted the management philosophy of the European Union and FDA and developed its own standardized quality management system. It has won the Chinese drug GMP accreditation for many times, as well as the Australian TGA GMP certification.
  Shantou MEBO has conducted research on the quality standard of MEBO, which complied with the national drug standard.
  Shantou MEBO has been rated as a high-tech enterprise for many times. It is one of the leading companies in its industry in terms of proprietary intellectual property rights, scientific and technological research transfer and R&D. Now, it is having more investment in R&D of herb medicines, traditional Chinese medicines and chemical medicines.
  Moist Exposed Burn Ointment, the core product of Shantou MEBO, has been hailed as a big breakthrough by the international academical community of burn treatment. It is also the first botanical drug to enter the US FDA drug research approval procedure and has been imported as a drug into more than 40 countries including South Korea, Thailand, the United Arab Emirates, Saudi Arabia, Egypt, and Syria.
  In the past 30 years, Shantou MEBO has developed into a key leading enterprise in Guangdong Province and one of the largest ointment manufacturers in China; as a high-tech enterprise in Guangdong Province, it has won China's pharmaceutical GMP certification four times, Australian TGA GMP certification four times.
  Thanks to our past 30 years' effort, MEBO has been adopted by 100,000 hospitals and medical institutions in more than 80 countries around the world and benefited hundreds of millions of patients.
  Shantou MEBO is the miniature of China's economic development and sets up a model for Chinese herbal medicines as it formulate standards for and pushes the development of herbal medicine.
  The development of Shantou MEBO is inseparable from the pioneering spirit of its employees. Through setbacks and hardships, they have written MEBO history with their own blood and sweat. With their wisdom, they won a glorious thirty years for Shantou MEBO!
  This is a period of struggle, hard work and unstoppable progress, a period of honor, glory and overwhelming strength.
  Shantou MEBO, a mission-oriented enterprise, will embark on a new journey while remaining true to its original aspiration. Standing on the new starting point, it is ready to win new victories and embrace more glorious prospect.