July 04, 2023
Kevin Xu Delivered a Speech at the Second Inaugural Meeting of APEC 2023
  On June 28, 2023, the second inaugural meeting of APEC 2023 was held at the Salesforce Tower in San Francisco. London Breed, the Mayor of San Francisco, delivered a speech. Kevin Xu, the Chairman of Board of Directors OF MEBO Group and the head of the Bay Area Committee's APEC Working Group, attended the meeting as a guest and gave a speech as a company representative.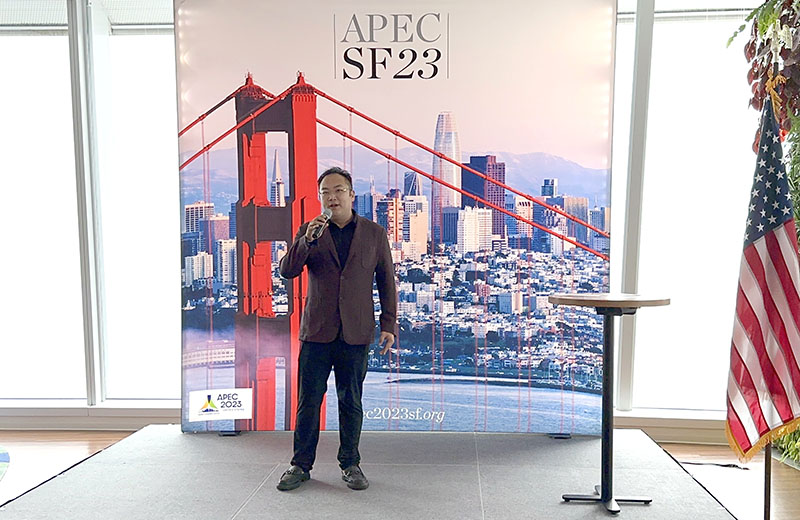 Kevin Xu stated that APEC 2023 conference in San Francisco not only was an opportunity for the city but also showed a responsibility that represents what the United States should undertake. Kevin Xu emphasized that the global impact of the COVID-19 pandemic in recent years had been devastating, but it was the time to demonstrate resilience and embark on a new journey. The APEC conference provided an opportunity for different cultures to cooperate in tackling global challenges. Taking this opportunity, the host city would demonstrate the diversity and inclusiveness in education and innovation. Kevin Xu Peng believed that through the APEC conference, San Francisco would present a lasting wealth to the world, not only for the United States but also for the entire world.
  In 2023, MEBO Group became a partner and committee member of the Asia-Pacific Economic Cooperation (APEC). Kevin Xu was the Chair of Bay Area Committee's APEC Working Group - APEC 2023 co-organizer. MEBO Group not only provided extensive resources in areas such as communication, public relations, and technology to APEC but also offers innovative ideas and assistance to it.
  MEBO Group has always been committed to creating an open and vibrant ecosystem of partnerships. Throughout its years of development, MEBO Group has established deep friendships with APEC member countries and worked hand in hand to seek mutual development. MEBO will continue to actively participate in the series of activities organized by APEC. With the vision of "building the APEC ecosystem" in mind, MEBO will gather wisdom and resources to construct a more prosperous, resilient, and sustainable future in the Asia-Pacific region and beyond.
  Follow APEC 2023 and embrace new opportunities together with MEBO!