August 21, 2023
MEBO Group Provided Support to Extinguish Hawaii Wildfire
  Recently, due to hot and dry weather as well as the impact of Hurricane "Dora," a wildfire erupted on Maui, the second-largest island in the Hawaiian Islands, affecting over 100,000 residents. The blaze has resulted in the death of more than 100 people on Maui Island.
  In response to the wildfire, the American Chamber of Commerce and the Federal Emergency Management Agency (FEMA) held multiple online discussions with Kevin Xu, Chairman of the Board of Directors of MEBO Group, regarding emergency assistance and post-disaster reconstruction.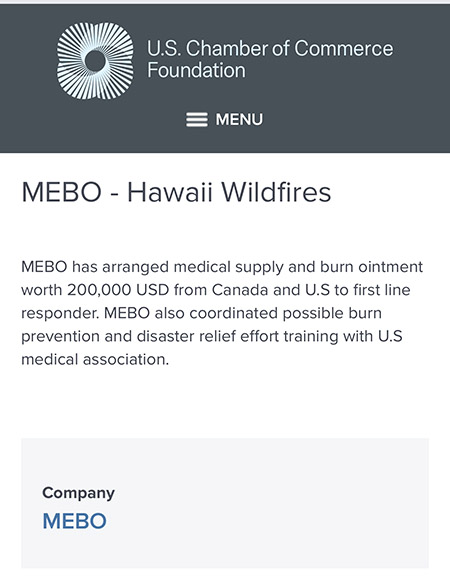 MEBO Group swiftly allocated emergency medical supplies and burn ointments from Canada and the United States worth $200,000 to support frontline emergency personnel in Hawaii. MEBO Group also partnered with the American Medical Association to initiate burn prevention and disaster relief training.
  In face of disaster, we are committed to taking action swiftly!