June 24, 2019
The Board of MEBO Group was Invited to Attend the Rhodes Venture Capital Forum
  On June 23, at the invitation of Ms. Elizabeth Kiss, CEO of RhodesTrust in Oxford University and President of Rhodes College, Ms. Li Li and Mr. Kevin Xu, Board Chairman of MEBO Group attended the Third Rhodes Venture Capital Forum held in the Rhodes Building of Oxford University. President Kiss welcomed the team of MEBO Group in her office and had lunch together. In February, Chairman Kevin Xu made his first visit to Oxford University where he met President Kiss and agreed a strategic cooperation agreement with her including jointly holding Science, Technology and Society Forum. This is the second time Kevin Xu visiting Oxford University and meeting President Kiss. They not only discussed the strategic cooperation agreement in detail, and also planned to recommend Oxford University to Clinton Foundation to make the university as the venue of Clinton Global Initiative University (CGIU) program, the first such venue outside of the US, as well as agreed to work out cross points of integrating the empirical mode and ideas of Kevin Xu Global Initiative on Science, Technology and Inequality in The University of Chicago into the classroom of Oxford University.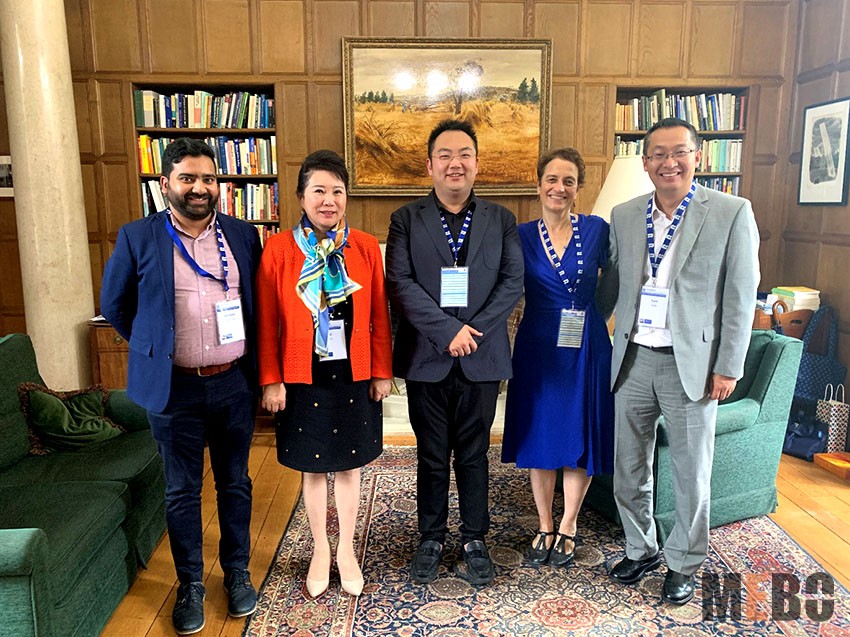 After the discussion, President Kiss presented Ms. Li Li a scarf customized for Rhodes Scholars to express her thanks for the visiting of MEBO team, for their efforts of helping Oxford University to expand beyond the UK and to establish contact and cooperation with some commonweal organizations with worldwide influence such as CGI.
  In the forum, Kexin Xu was specially invited as a guest speaker, and Kevin Xu also recommended Dr. Mishra, Director of Kevin Xu Global Initiative and winner of Rhodes scholarship in 2018, as a speaker guest to attend the sub-forum on "Non-profit organizations, social enterprises and global development". The team of MEBO Group attended the sub-forum through the whole course. The sub- forum was held in the exhibition hall at the second floor of Rhodes Building. On the wall of the exhibition hall presents the group photos of all Rhodes scholars over the years. The visit of MEBO Group will further expand and deepen the bilateral cooperation in the future.