May 28, 2021
Kevin Xu Attended the Online Commemoration of the 20th Anniversary of Clinton Foundation
  On May 27th, Kevin Xu attended the online commemoration of the 20th anniversary of Clinton Foundation. The Clinton Foundation was established by former US President Bill Clinton. Its mission is to "strengthen the ability of the American people and the people of the world to meet the challenges of global interdependence."
  Previously, Kevin Xu and Li Li , together with US Vice President Kamala Harris, former President Clinton and other global leaders, gathered at the annual meeting CGIU. "COVID-19 Student Action Fund", launched by Kevin Xu and CGI U, was one of the eight highlights of the annual meeting in 2021.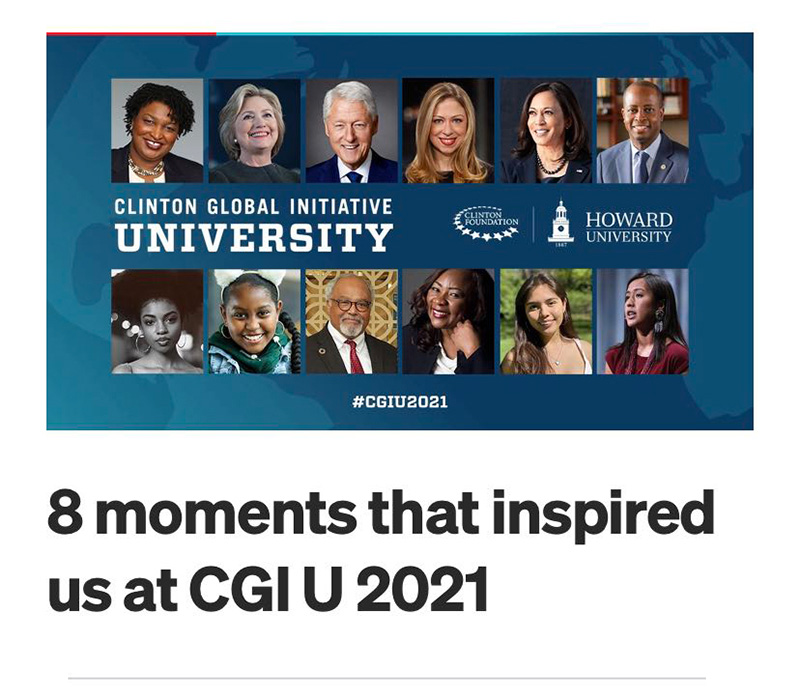 Bill Clinton launched the Clinton Global Initiative University (CGI U) in 2007 to attract the next generation of leaders to take action on university campuses around the world to address global challenges. In March of this year, Bill Clinton and Chelsea Clinton convened 600 student leaders from universities around the world in CGI U virtual meeting. The students of 2021 CGI U made more than 400 initiatives to solve a wide range of issues, including problems related to Covid-19, climate change, racism, social justice and food safety.
  The Clinton Foundation's official website released 8 highlights at the annual meeting in 2021, including:
Kamala Harris shared the reasons why the students of CGI U brought her hope, and discussed with the students and alumni of CGI U on how the class of 2021 students could unleash their potential.
Stacey Abrams talked about her commitment to democratic development and explained why young people were needed more than ever.
Climate activist Xiye Bastida gave his advice to student leaders who were committed to building a brighter future and a greener planet.
President Clinton called for action to end gun violence in response to recent shooting incidents across the United States.
Chelsea Clinton and public health experts discussed various challenges in the fight against Covid-19 and problems cropping up during the post-epidemic period.
Bill Clinton encouraged CGI U students and alumni to submit their ideas to the Verizon Social Innovation Challenge and share their technology-based ideas,so as to improve education, mitigate climate change problems or ensure better equity in medical services.
Chelsea Clinton introduced the members of CGI U "Covid-19 Student Action Fund" and their innovative projects to fight the public health crisis. In 2021, many students made commitment to respond to the impact of the COVID-19 pandemic on public health, economy and society. The Clinton Foundation, with the generous donations of Kevin Xu and the CGI U University Network, donated $100,000 to them.
Kamala Harris gave several suggestions to the 2021 CGI U students, encouraging the younger generation to make a positive impact on their communities.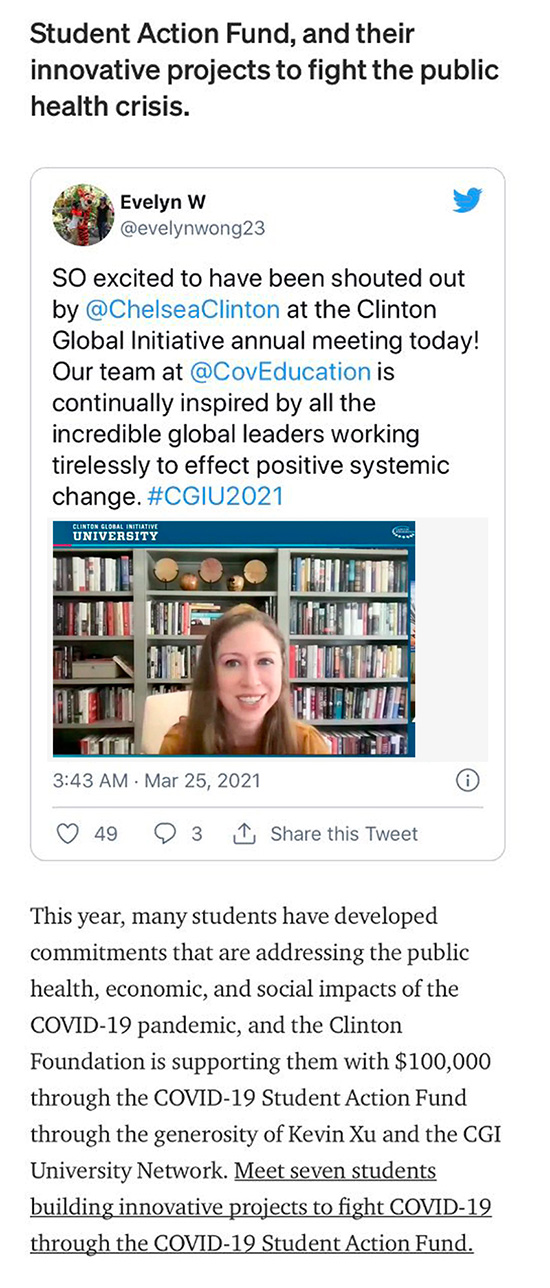 In April 2020, Kevin Xu and CGI U launched "Covid-19 Student Action Fund". This special fund for motivating students to solve Covid-19 crisis has received a wide range of responses from young students around the world and has submitted more than 10,000 suggestions involving economics, business, education, infectious disease monitoring and response.
  Bill Clinton and Chelsea Clinton highly recognized this project and praised it many times on many occasions.