August 16, 2021
Kevin Xu Talked about the Role of Non-Profit Partnerships in Social Progress
  On August 16 of 2021, the 34th anniversary of the MEBO Group, Forbes magazine published an article written by Kevin Xu -The Role Non-Profit Partnerships Play in Social Progress. Kevin hoped to improve the country's Social Progress Index (SPI) with the help of non-profit organizations.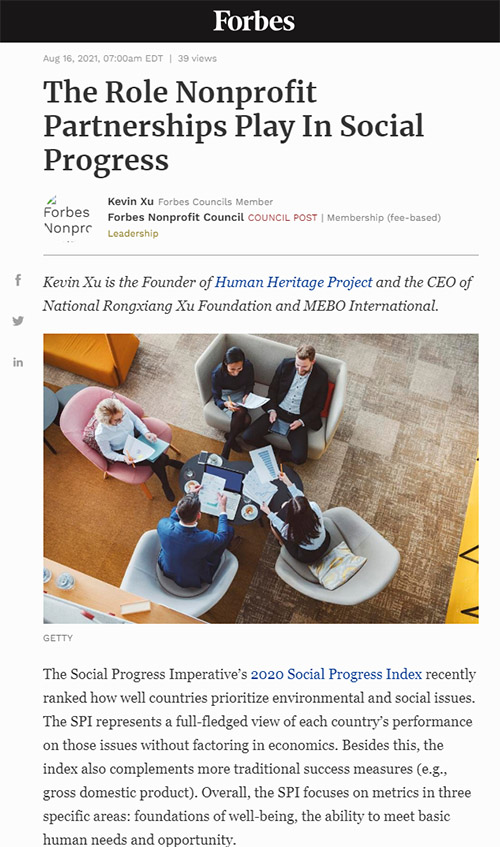 The SPI represents a full-fledged view of each country's performance on social and environmental issues without factoring in economics. Besides this, the index also complements more traditional success measures (e.g., gross domestic product). Overall, the SPI focuses on metrics in three specific areas: foundations of well -being, the ability to meet basic human needs and opportunity.
  According to the Aspen Institute, strong non-profit organizations are vital to our society. They offer basic services, promote community relations and provide people with a sense of belonging. In addition, they know local communities well, so they can meet their unique needs.
  Kevin Xu said that enterprises and non-profit organizations should cooperate with each other, be goal-oriented and move toward a common goal for greater benefits.
  Kevin also gave specific suggestions on how non-profit organizations could help improve SPI: non-profit organizations must accurately reflect community needs, pay special attention to the diversity of communities, and coordinate communities and local organizations, rely on effective feedback system to learn from mistakes and do better in the future.
  Kevin Xu emphasized that non-profit organizations played an indispensable role in the progress of the international society. Through partnerships, non-profit organizations could use feedback and accountability mechanisms to improve their community services.
  Kevin hoped that this article would provide strategies for more countries, through the joint efforts of non-profit organizations and business decision-makers and with a sense of sustainable development, promote global public welfare activities and improve the happiness of the people around the world.
Refer to: