September 12, 2023
New Forces Joined CGI 2023 Annual Meeting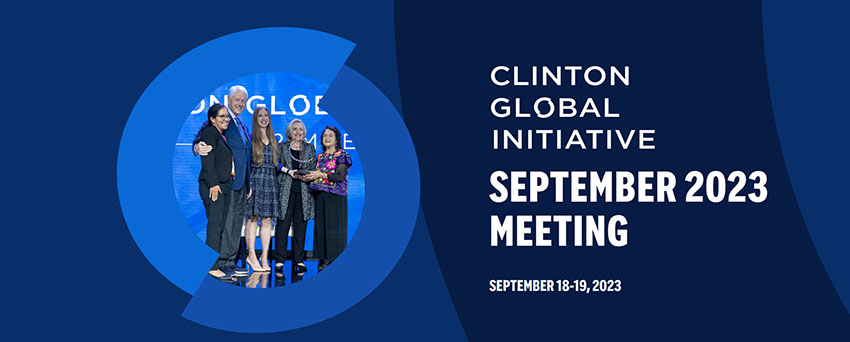 Former U.S. President and the founder/chairman of the Clinton Foundation, Bill Clinton, former U.S. Secretary of State Hillary Clinton, and Vice Chair of the Clinton Foundation Chelsea Clinton, jointly announced that the "Clinton Global Initiative (CGI) 2023 Annual Meeting" would be held in New York from September 18th to 19th. International organizations, local governments, non-governmental organizations, private sectors, civil societies, scientists, entrepreneurs, and youth leaders would gather in New York again. At the meeting, there would be new forces at the meeting, and new, specific, and measurable "action commitments" for sustained efforts would be launched to address global challenges. As a significant partner of the Clinton Foundation, MEBO Group would participate in the CGI 2023 Annual Meeting as before and launch a new action commitment, "CGI Greenhouse", dedicated to supporting more young scholars and entrepreneurs to take action to deal with global warming and climate crises.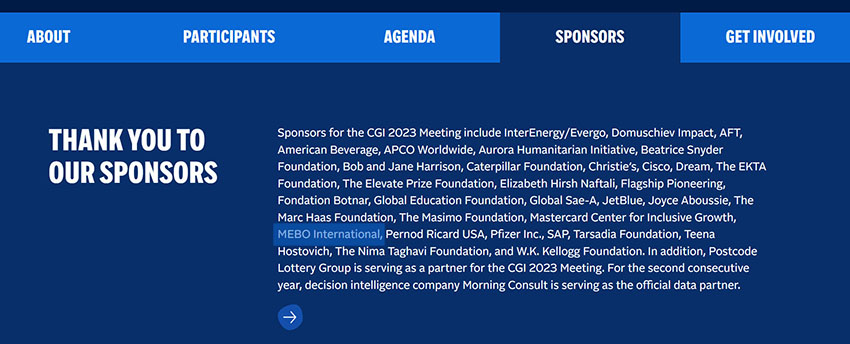 The Clinton Global Initiative (CGI), established by former U.S. President Bill Clinton in 2005, was dedicated to convening global leaders to develop solutions for the world's most pressing challenges. To date, CGI members had initiated over 3,900 action commitments, benefiting more than 435 million people in over 180 countries worldwide. At the 2022 meeting, they made over 140 action commitments to enhance access to healthcare, promote sustainability, create job opportunities, and help to solve refugee issues. Back then, Kevin Xu, Chairman of the MEBO Group, alongside guests from 7 other initiatives, witnessed President Clinton's announcement of 8 commitments, including initiative launched by MEBO Group:"Mending Europe: Empowering the Establishment of Regeneration Network."
  The Clinton Global Initiative (CGI) 2023 Annual Meeting would be held on September 18th and 19th, 2023. We look forward to your participation.