For skin injuries
MEBO Wound Ointment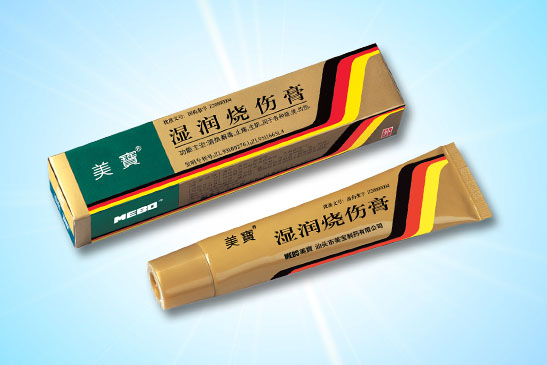 SPECIFICATION 20G AND 40G/TUBE
Product Description:
• Botanical drug consisting of multiple botanic components and nutritional ingredients cooperated with patented dosage form with net-frame structure. Topical ointment made from natural ingredients including sesame oil, beeswax, and other edible herbs, which provide β-sitosterol, 18 natural amino acids, 4 essential fatty acids, vitamin E, and polysaccharides.
• Each tube contains 20 g or 40 g of ointment
• Ointment is yellow with a sesame scent.
- Burn wounds including first degree, superficial second-degree, deep second-degree superficial type, deep second-degree deep type, superficial third-degree and deep third-degree burn wounds, burn wounds on bone, electronic burns and severe chemical burns (Typical Clincal Cases Profiles)
- Surgical wounds including donor site wounds, cosmetic surgical wounds, ostomy wounds, wounds of circumcision, obstetrical wounds
• Chronic Wounds (Typical Clinical Cases Profiles)
- Diabetic ulcers
- Chemotherapeutic phlebitis
- Newborn diaper dermatitis
The Picture Demonstration of Case Reports for Burns, Wounds and Ulcers Treated by MEBT/MEBO
More details about the application on other disorders besides burns
• Maintains wound in a physiological moist environment
• Promotes wound healing by activating and sustaining intrinsic regenerative potential of the body and cultivating stem cells of the body in situ and in vivo
• Improves wound microcirculation in the zone of stasis
• Protects wounds from potential infection
• Minimizes pain and the use of analgesics
• Restores physiological structure and function of the body
• Promotes quality of healing by reducing scarring
l Local Burn Wound Treatment
l Systemic Treatment -- MEBT
• Seal tube tightly after each use
* Regulatorially approved in China as a pharmaceutical that can be sold as an over-the-counter (OTC) drug, and in 23 other countries as a botanical drug.