September 09, 2019
Li Li was awarded "the top ten outstanding women" in Asian brands
  In recent days, MEBO Group has won various awards and Li Li, the vice chairman of board of directors of MEBO Group has been conferred with honorary titles, which gives new momentum to the development of MEBO Group.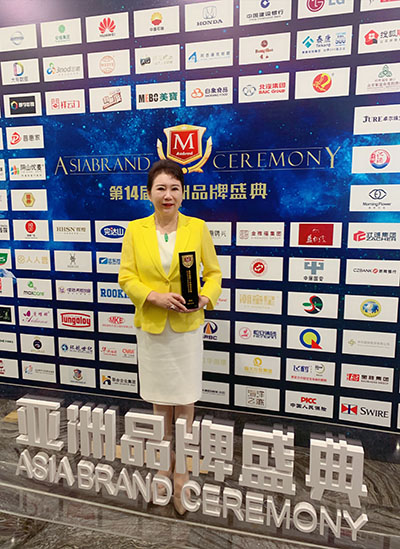 On August 28, 2019 and September 9, 2019, Li Li, the vice chairman of the Board of Directors of MEBO Group, was awarded great titles on two important occasions respectively -" Outstanding Women · The 70th Anniversary of the Founding of the People's Republic "and"The Top Ten Outstanding Women ·Asia Brand Ceremony".
  As one of the early members who joined in the reform and opening up, Li Li made her own contribution in the realization of the Chinese Dream and in the development of the MEBO Group during the past 30 years.
  At Asia Brand Ceremony, Li Li shared her experience in brand innovation. She said that MEBO has been committed to building a world brand of Chinese medical technology, and is a pathfinder and promoter for the innovative development of Chinese medicine.
On September 8, 2019, The 2019 Chinese Established Company Summit Forum and China Business Leaders Summit was held in Beijing . At this conference, MEBO Group was awarded the Golden Award of China's Top Ten Innovative Brands for its innovative international development.
  During the past 30 years, MEBO Group has always adhered to the principle of technological innovation, business model innovation and platform innovation. It has grown from a small company with a single product to a enterprise group with dozens of its own products, upgraded regenerative medical technology into regenerative life sciences, enlarged its local Chinese market to a international one that covers 75 countries and built a strategic ecological ecosystem of regenerative life economy--a strategic cluster in which companies, universities and research institutes are coordinated to promote development of regenerative medical technology.
  The Asian brand Ceremony was launched by Asiabrand - a well known brand evaluation agency . With the core concept of" Wining the Future with Brands" and"advocating craftsmanship spirit", Asia Brand Ceremony is committed to promoting the international exchange and development of Asian brands.
  Due to its innovation, achievements in brands strategy, brand model and brand management, and embodiment of the core value of Chinese health industry, MEBO Group stood out among hundreds of established companies and won the award.
  In the future, MEBO will continue its path of brand innovation . It will be more inclusive and keep a big picture in mind so as to keep pace with the times and achieve win-win results in its development.