June 19, 2020
Articles on the UN Website about MEBO's Action against COVID-19
  On June 16, 2020, an article signed by Li Xiaolin, former president of the Chinese People's Association for Friendship with Foreign Countries, "The United Nations "Every Woman, Every Child" Chinese Partner Network Actively Fights Against the COVID-19" was carried on the homepage of the official website of UN "Every Woman, Every Child" initiative. The article pointed out that the China Partner Network helped its member states to mobilize their resources, donate materials, raise funds, set up cloud classrooms, and hold experience sharing video conferences to alleviate the impact of COVID-19 on women and children in China and the world. It particularly praised the performance of the MEBO Group.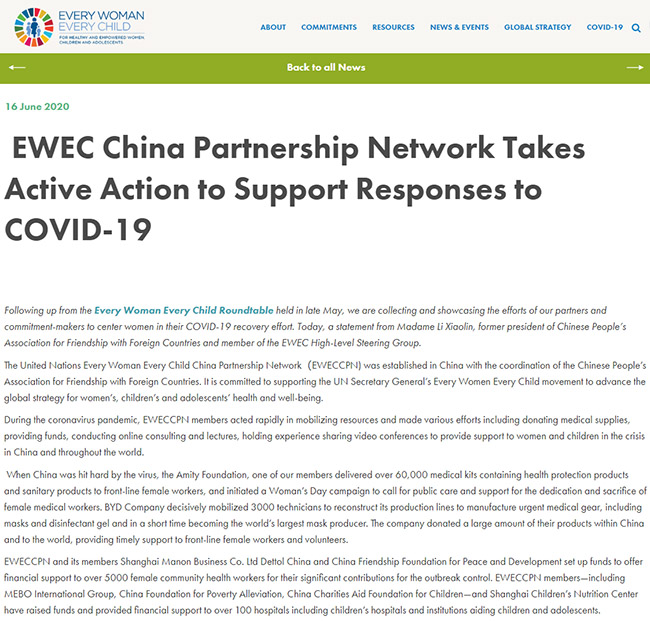 As the epidemic spread in countries around the world, United Nations "Every Woman, Every Child" China Partner Network pooled the power of the network to provide assistance to countries around the world. MEBO Group and other organizations raised funds to provide emergency donations to more than 100 medical institutions.
  As a mission-oriented enterprise, MEBO Group joined the United Nations "Every Woman, Every Child" China partner network on May 29, 2016.
  As Li Xiaolin said in the article, "The virus respects no borders, the epidemic does not distinguish between races. Humanity is a community of shared destiny. Working together to prevent and manage the COVID-19 concerns the safety and health of everyone in the world. We firmly believe that through joint efforts and active action, we can finally defeat the epidemic and further improve the health and well-being of women, children and adolescents worldwide."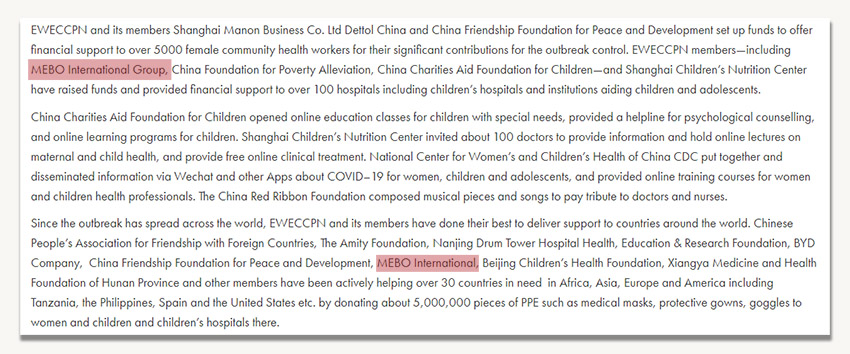 The epidemic is testing the global public health system. At such critical juncture, our common destiny to overcome hardships is becoming more and more important in responding to the spread of the COVID-19.
  MEBO will continue to work with international community to share Chinese experience to countries and regions affected by the epidemic and further enhance the sense of security and well-being of women and children around the world.