April 12, 2021
The 53rd ABA Online Meeting Was Held for Academic Exchange in Burn Treatment
  The online annual meeting of 53rd American Burn Association (ABA) was held as scheduled on 7th, April. Although the meeting was held online, this did not hinder the enthusiasm of global medical workers. 800 people attended the opening ceremony online in real time that day. In the three-day meeting, burn treatment experts from all over the world shared their latest research results, discussed cutting-edge treatment strategies, and had heated discussions on this exchange platform. Founded in 1967, the American Burns Association is an important academic organization in the field of burn treatment in the United States. The related research and education projects promoted and carried out by it have had a profound impact on the development of burn treatment worldwide.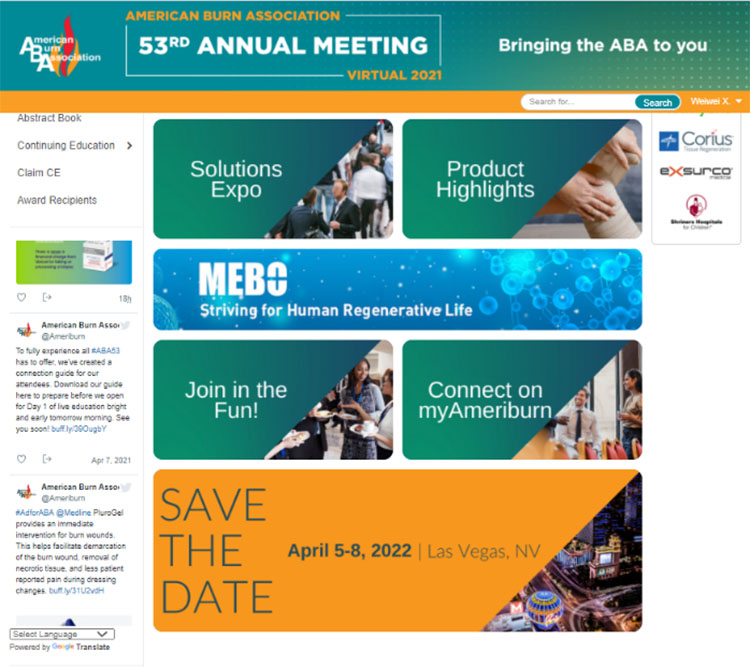 This year's meeting is very rich in content. Keynote speeches in this meeting covered common problems in burn treatment, such as infection, rehydration, scars, rehabilitation, psychological support, etc. The meeting provided participants with the latest trends and development in burn treatment. The global impact of Covid-19 has made us aware of the important role of multidisciplinary cooperation in burn treatment. Multidisciplinary treatment of burns has undoubtedly become the focus of discussion in this meeting.
  The ABA online meeting provided not only a good opportunity of academic exchange for experts in the burn field, but also a broad platform for companies to showcase their products and technologies. More than 40 well-known pharmaceutical companies from around the world participated in the meeting. Since 2016, MEBO Group has participated in the ABA Annual Meeting for 4 consecutive years. This year, MEBO Group was once again invited to explore and promote the future development of burn treatment with global experts and companies. As a leader in regenerative life science, it will continue to promote the sustainable development and technological innovation of regenerative life science.

  The online booth designed by MEBO Group showed not only the company's development and achievements, but also some core wound treatment products, such as MEBO ointment that has been used in the world for decades. It is worth mentioning that MEBO Wound & UIcer Dressing, which has been successfully registered in the United States, was a major recommend products at this conference.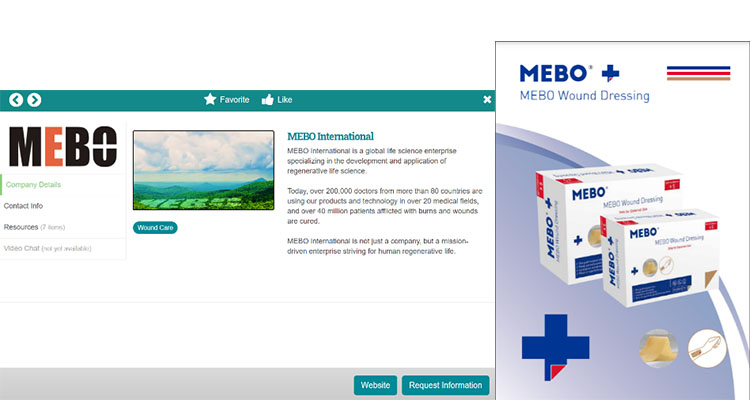 By participating in such conference, MEBO Group has established a close and stable cooperative relationship with the ABA. In the future, the two parties will further strengthen their exchange, enhance the cooperative relationship to promote the global development of regenerative life science and the continuous progress of burn treatment technology.