September 24, 2021
Concordia and MEBO Group Co-hosted Patron Member Roundtable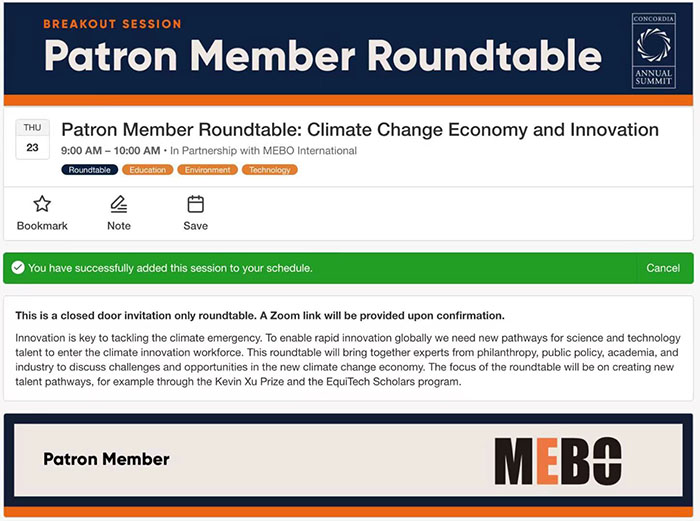 On September 20, the one-week Concordia Annual Summit was held both online and offline. World's top executives, politicians, and leaders of non-profit organizations gathered at this summit and they paved the way for building a fairer and more sustainable future. Drawing on the experience gained from fight against COVID-19, the summit emphasized the core belief of Concordia: cooperation is far better than working alone.
  On September 23 Eastern Time, Concordia and MEBO Group co-hosted Patron Member Roundtable: Climate Change Economy and Innovation. Innovation was key to tackling the climate emergency. To enable rapid innovation globally, we needed new pathways for science and technology talent to enter the climate innovation workforce. This roundtable brought together experts from philanthropy, public policy, academia, and industry to discuss challenges and opportunities in the new climate change economy. The focus of the roundtable was on creating new talent pathways, for example through the Kevin Xu Prize and the EquiTech Scholars program.
  During the summit, Concordia and KXI launched a new initiative - Equitech Future. To facilitate the implementation of the initiative, Kevin Xu Prize was established so that more science and technology talents could enter the climate innovation workforce.
  Kevin Xu emphasized that building an ecosystem was very important for any action. When facing the challenges of climate change, we still needed to work together with our stakeholders. We had to figure out what we needed to do and who would do it, so as to accelerate the pace of our action.
  Many experts and scientists participated in this conference, including Aayusha Shreshta, the first Kevin Xu Prize winner, and Clayton Aldern, a data scientist and writer at Grist.org.