November 28, 2022
ISRMWR Established Partnership with ECOSOC
  The 2023 Partnership Forum of the Economic and Social Council (ECOSOC) will be held on Tuesday, 31 January 2023, from 9:00 am to 5:45 pm (EDT), back-to-back with the Council's Coordination Segment, at the United Nations headquarters in New York. Under the main theme of the 2023 ECOSOC and the High-level Political Forum on Sustainable Development (HLPF), "Accelerating the recovery from the coronavirus disease (COVID-19) and the full implementation of the 2030 Agenda for Sustainable Development at all levels", the 2023 ECOSOC Partnership Forum will bring together UN Member States and stakeholders – from civil society, the private sector, scientists, women, youth, local governments and many others – to discuss innovative efforts that are driving action on the UN Sustainable Development Goals (SDGs) and to highlight the contributions that partnerships can make in this regard.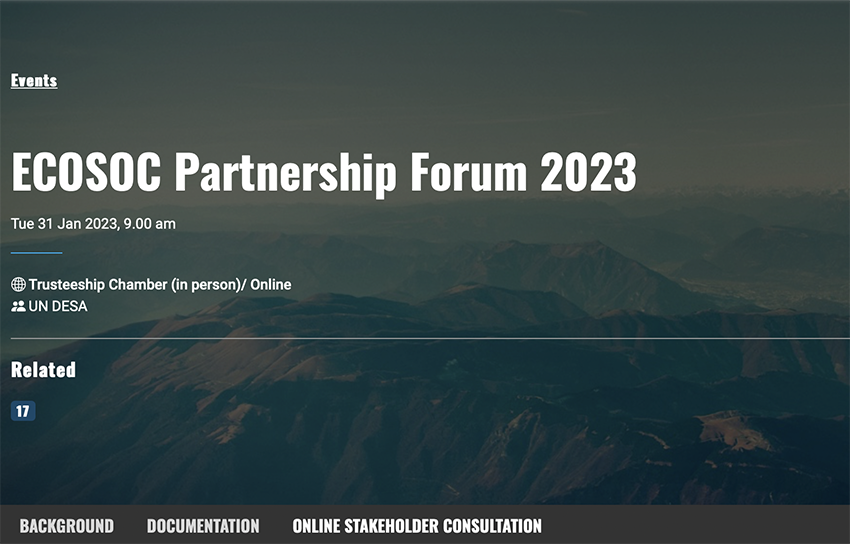 To help to achieve this goal, the International Society for Regenerative Medicine and Wound Repair (ISRMWR) established a new partnership with Economic and Social Council, and would participate in ECOSOC Partnership Forum 2023. Kevin Xu, president of the International Society for Regenerative Medicine and Wound Repair, put forward the initiative of establishing regional scientific groups to meet challenges and promote sustainable development. The initiative, proposed by International Society for Regenerative Medicine and Wound Repair, had been included in the ECOSOC Partnership Forum 2023 . The initiative aimed to strengthen people's understanding of global issues, verify and disseminate news from social media, and promote science. Kevin Xu stated that in the face of various global challenges, we first needed to build an alliance on the basis of common understanding of these challenges. This initiative would help to enhance the ability of local people to understand science and identify scientific information, so that they could work together to create a better life.
  An analytical summary would be prepared to capture the key policy messages of the Forum along with the messages of the Coordination Segment, which would serve as an input to the July 2023 HLPF and the 2023 SDG Summit as well as the overall work of the ECOSOC and other key inter-governmental processes throughout 2023.
  ECOSOC is the core body of the United Nations system,aiming at promoting economic, social and environmental goals of sustainable development. It is a central platform for debating and innovative thinking, building consensus and coordinating efforts of all parties to achieve the internationally agreed goals. It is also responsible for follow-up activities of major United Nations conferences and summits. It provides analysis, policy recommendations and technical support, so that global commitments in the economic, social and environmental fields can be translated into national policies and actions. It is held once a year to discuss how the partnership can promote sustainable development.
  In May 2016, National Rongxiang Xu Foundation joined ECOSOC. Kevin Xu, Chairman of the Board of Directors of MEBO Group, was invited to attend many of its forums to come up with ideas to address global health issues.