March 22, 2021
Beijing MEBO Hi-Tech Got 2021 Halal Certification
  On March 12, Beijing MEBO Hi-Tech Co., Ltd. (Beijing MEBO Hi-Tech), a subsidiary of MEBO Group, got the Halal certification. This is the first time that Beijing MEBO High-Tech Co., Ltd. completed the biennial Halal certification process, marking that the MEBO GI Capsule can be sold in most Islamic countries in the world.
  Halal auditors from ARA have carried out a series of document audits, on-site audits, on-site inspections, and document and record reviews. After that, they hosted training on Halal food on both the domestic and international markets, and offered guidelines on application scope and application areas of Halal certification mark.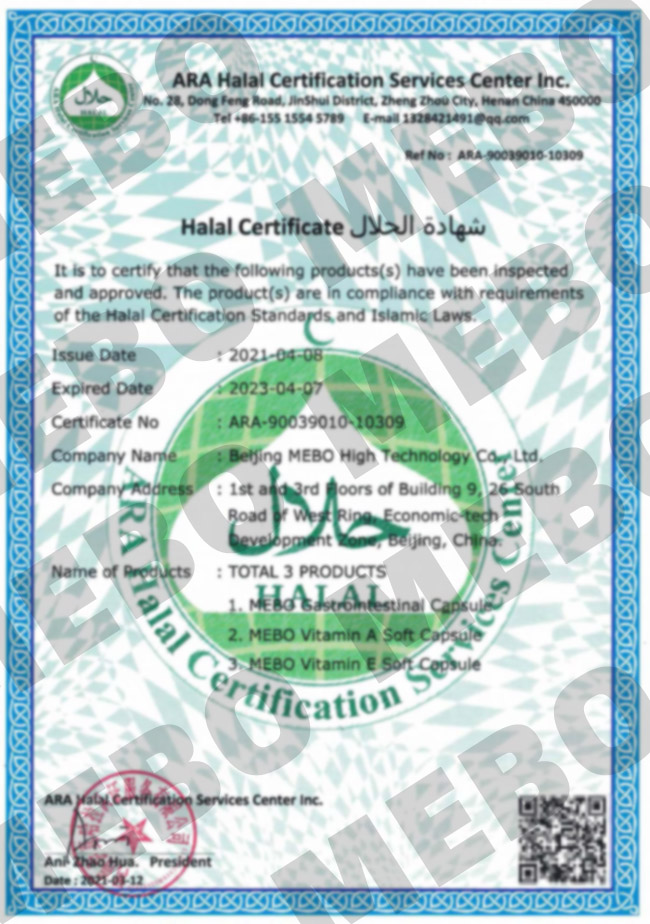 After rigorous and meticulous inspection, the auditors believed that the health food production line of Beijing MEBO High-Tech Co., Ltd. has reached the Malaysia Standard MS1500: 2019 GMP in terms of Halal materials, production technology, facilities and equipment, production environment, and operation.
  Halal certification refers to the certification of food, ingredients and additives in accordance with the canon law. The scope of Halal certification includes food and ingredients, food additives, food packaging, fine chemicals, medicines, cosmetics, etc. Companies that have got Halal certification can use widely recognized Halal mark on their food package.