July 06, 2020
29 Projects Launched by the "COVID-19 Student Action Fund" Entered the Finals
  The "COVID-19 Student Action Fund sponsored by MEBO Group and jointly launched by Clinton Global Initiative University (CGI U) Network and Kevin Xu is about to enter the finals. In the first round, 29 projects out of 1,415 from more than 60 prestigious universities in 9 countries and regions around the world were selected. In the second round, 20 out of the 29 projects will be selected, with a total funding of US$50,000. Meanwhile, we are very delighted that the project from Tsinghua University has entered the finals. China's higher education institutions are actively participating in global public affairs, assuming their responsibility on the international stage.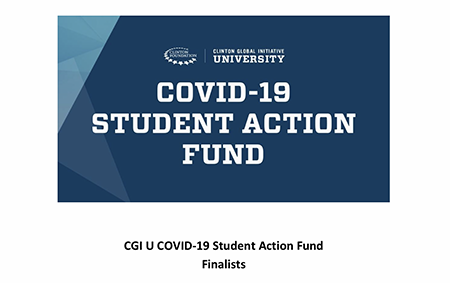 "The "COVID-19 Student Action Fund" aims to turn students' valuable ideas against the outbreak into feasible projects. It not only discusses the global challenges posed by the pandemic, but also encourages students to adopt concrete actions to respond to the epidemic. This special fund has received widespread response from young students around the world. The projects they submitted involve economics, business, education, infectious disease surveillance and response, and protection of medical staff, and community support.
  The whole world has changed since the outbreak of COVID-19. As representative of the world's young power, students have undertaken their responsibilities and are contributing to the world in their own way. The COVID-19 Student Action Fund has become an important channel to gather excellent strategies from young students to fight against the epidemic.
  Kevin Xu, Chairman of the Board of Directors of MEBO Group, says that the epidemic is still spreading around the world, but diversified viewpoints will play an important role in epidemic prevention and management, scientific research, data collection, economic and social recovery, and public health. The COVID-19 Student Action Fund will provide a new channel for the young people in the world to assume more international responsibilities and play more important role.