June 30, 2019
The 2019 Pacific Summit of San Francisco Bay Area Council was held
  On June 21, 2019, the 2019 Pacific Summit of San Francisco Bay Area Council was held in San Francisco, which attracted many world's top CEOs and major influential people, including California Governor Gavin Newsom, Chancellor of the University of California Janet Napolitano and etc. They carried out deep discussion on topics of major political, economic, cultural and social development trends, further promoting the relationship between California and other countries and regions in aspects of trade, artificial intelligence, climate change, transportation and medical care.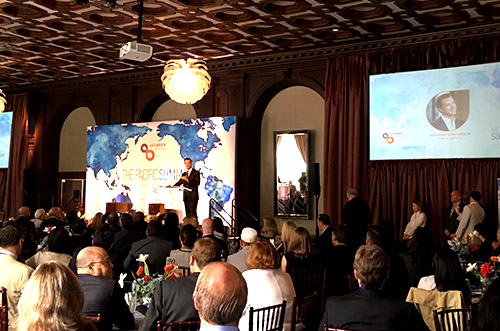 Since November 2017, Kevin Xu has been nominated as the Chief Advisory Director of California Bay Area Council, and is the major promoter and supporter of establishing Beijing Office in China of the Bay Area Council. The Bay Area Council China Office is in Shanghai, where also lies the China Office of the University of California. Kevin Xu plays an important role as a bridge to promote the
cooperation between California and China, and once actively organized high-level trade delegations of the San Francisco Bay Area Council to China, which greatly strengthened the trade cooperation between the council and enterprises in Beijing, Shanghai and Shenzhen.
  MEBO Group has established a long-term and reliable cooperation relationship with California. At the beginning of June, China- California Business Forum was held in Los Angeles, and Ms. Li Li was invited to address in this forum as a new panelist, and she mainly introduced the regenerative medical technology for burns, wounds and ulcers originated from China and has already be applied in over 70 countries, and also stressed that it is an innovative way to make MEBO - an original and unique external herbal medicine from China pass the FDA and enter the U.S. and the world.