April 28, 2020
MEBO Scar Treatment Technology Debuts on the WHO International Clinical Trial Registry Platform
  A few days ago, a research article MEBO Scar Ointment in Improving the appearance of skin scars written by Dr. Alderseir Bayat, Associate Professor at Dermatology Research Center of University of Manchester, was included into the WHO International Clinical Trial Registry Platform. The study is about "in vivo functional testing of a topical skin drug: an objective and quantitative evaluation of the drug in the treatment of human skin scars using continuous puncture biopsy technology", and the study result is published in "Advances in Wound Care".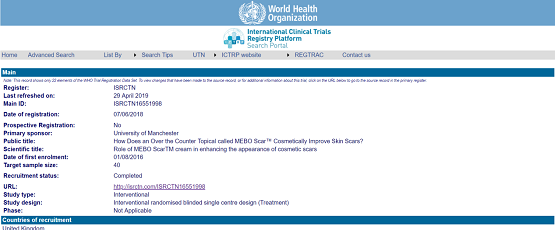 Dr. Alderseir Bayat stated in his article that people believe many external used drugs have significant effect on the management of skin scars, but the evidence for their efficacy is limited. The purpose of this study is to use invasive and non-invasive means to clearly detect the function of MEBO.
45 volunteers were included in this study and they were randomly divided into an experiment group, who received MEBO ointment containing natural ingredients and a control group, treated with widely used external medicine for scars (positive control group). Biopsy was performed at different time points (16 weeks). Non-invasive quantitative equipment and gene protein means were used for evaluation of the result.
  Dr. Aldhir Bayat's research results showed that MEBO has a positive effect on wound repair during the early stage of scar formation.
  The products used in research carried out by Dr. Alder Hill Bayat was provided by the Gulf Coast Pharmaceutical Company, a strategic partner of MEBO Group. It aims to further study the clinical mechanism and application of MEBO.
  The International Clinical Trial Registry Platform (ICTRP) is a project created by the World Health Organization in August 2005 and is headquartered in Geneva, Switzerland. It was established by WHO to connect the international clinical trial registry network." The main aim of the WHO ICTRP is to facilitate the prospective registry of the WHO Trial Registration Data Set on all clinical trials and increase the public accessibility of that information to the public. After clinical trial registry, the public can get access to trial results and, as a result, unnecessary repeated trials by researchers and research institutions can be avoided.