April 25, 2021
Yang Zhibin Paid Visit to Binzhou Medical University
  On April 22, Yang Zhibin, President of MEBO Group, visited the Yantai campus of Binzhou Medical University, where he conducted in-depth exchange with Zhao Shengtian, President of Binzhou Medical University.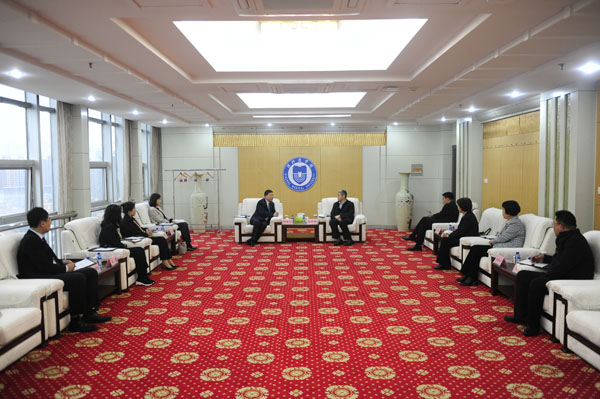 Zhao Shengtian welcomed Yang Zhibin and his delegation and praised MEBO Group for its extensive cooperation with domestic and foreign universities. He stated that MEBO Group and Binzhou Medical University shared a fraternal bond. The founders of MEBO, Professor Rongxiang Xu and Professor Li Li, are both outstanding alumni of Binzhou Medical University and they have made great contribution to the development of the university. Since the signing of the strategic cooperation agreement, the two parties had done a great deal of work to promote their mutual cooperation. They hoped to jointly carry out high-level scientific research with their favorable conditions for cooperation.
  On behalf of MEBO Group, Yang Zhibin expressed his gratitude to the university for its great attention to MEBO Group and praised the university for its vigorous development. He introduced MEBO Group and its development, scientific research, and the cooperation between the MEBO Group and some other universities, and showed his sincerity to further in-depth cooperation between the two parties.
  After the meeting, the two parties held a seminar on regenerative medicine research. Yang Zhibin attended the seminar and delivered a speech. Lv Changjun presided over the meeting. The two parties had a in-depth exchange on improving training courses provided by MEBO Group and enhancing regenerative medicine research.
  President Yang Zhibin listened to reports on personnel training plan, curriculum setting and curriculum optimization. They had discussions on textbooks, syllabus, teaching mode, teaching team, basic research and research result transfer. Three undergraduates studying in the training courses conducted classroom demonstration to the participants.
  The heads of Xu Rongxiang Regenerative Medicine Research Center, Academic Affairs Office, Science and Technology Office, School of Nursing, School of Pharmacy attended the meeting.
  2021 is the first year of the China's "14th Five-Year Plan" and a crucial year for MEBO Group. Based on the principle of "cooperative development, resource sharing, win-win result", the two parties would further strengthen their cooperation on personnel training, regenerative medicine research, drug development and production, and regenerative medicine clinical diagnosis and treatment technology promotion, so as to make contributions to "Healthy Shandong Initiative" and "Healthy China Initiative".