October 06, 2020
2020 Online Annual Meeting of Clinton Foundation: COVID-19 changes the world
  The annual meeting of Clinton Foundation's was held online on October 5, 2020, local time. MEBO Group was invited to attend it.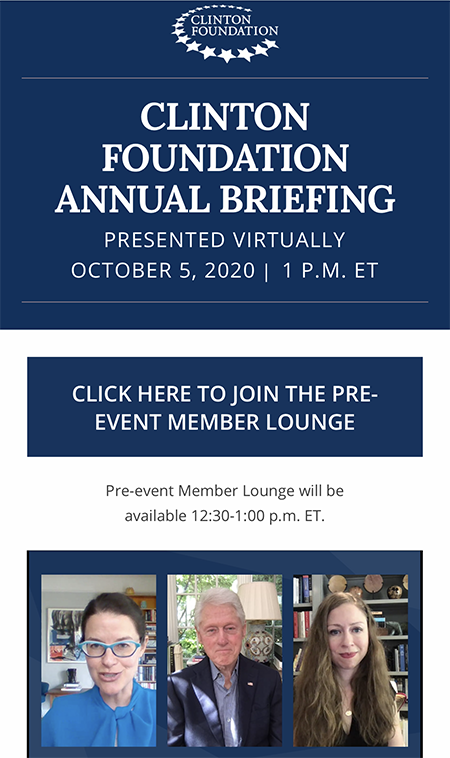 Clinton, the 42nd President of the United States and founder of the Clinton Foundation, and Chelsea Clinton, vice chairman of the Clinton Foundation, specifically mentioned Kevin Xu, Chairman of the Board of Directors of MEBO Group, in their online talk. Kevin Xu and President Clinton discussed the issue and development of COVID-19 at the Clinton Global Initiative America Summit in February this year.
  During their discussion, Kevin Xu and Clinton gave a forward-looking assessment over the epidemic. The further discussion at this online annual meeting between them reflected the impact and change brought about by the epidemic on the world. At this year's annual meeting, Clinton and Chelsea Clinton praised MEBO for setting a good example in epidemic prevention and control, and offered some specific measures to deal the epidemic. Clinton and Chelsea Clinton said that large-scale training of medical personnel and the establishment of a community medical network will not only help to curb the epidemic, but also promote economic recovery.
  In the early stage of the fight against the epidemic, Kevin expressed through a number of domestic and foreign media, international online conferences, online lecture and other platforms that COVID-19 would affect the international economic and political landscape, and even the overall historical trend and emphasized the necessity of establishing a global health and medical emergency system.
  MEBO Group has twice launched the Clinton Global Initiative Doctor Training Program on Regenerative Medical Technology, focusing on building a emergency rescue system for global disaster; The "COVID-19 Student Action Fund" initiated by Kevin Xu and the Clinton Global Initiative University launched COVID-19 Student Action Fund, which was committed to motivating young people to take actions to contribute to overcoming global health challenges.
  MEBO Group demonstrates strong sense of responsibility in a series of activities, from the training of global burn and trauma doctors to the establishment of a global disaster relief system. It will make more efforts to promote international health cooperation and protect human life. It will continue its partnership with Clinton Foundation to meet global health challenges.