January 15, 2022
A Trial Study on MEBO was Put on Records in WHO Trial Registration Data Set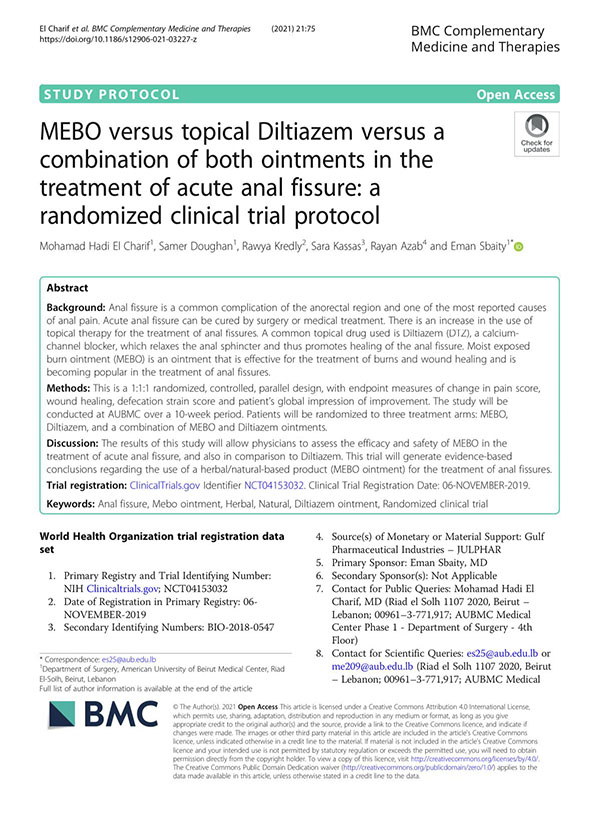 A few days ago, a comparative trial study of MEBO and Diltiazem ointment in the treatment of acute anal fissures initiated by Eman Sbaity, MD, Principal Investigator, American University Medical Center in Beirut, was published in BMC Complementary and Alternative Medicine. It had been put on records in the World Health Organization (WHO) trial registration data set, which would provide information archiving, access query, progress tracking and research evaluation for it.
  Anal fissure is a common complication in the anorectal area and one of the most reported causes of anal pain. It can be cured with surgery or medication. The trial study is to evaluate the efficacy and safety of MEBO and compare MEBO with Diltiazem in the treatment of acute anal fissures.MEBO, as an ointment that is effective for the treatment of burns, wounds and ulcers, is receiving more and more attention and is widely used in the treatment of anal fissures.
  BMC Complementary and Alternative Medicine publishes articles on interventions or resources that complement or replace traditional treatments, with particular emphasis on biological mechanisms of action, efficacy, safety, cost, and application.