March 12, 2021
MEBO Group Is listed as One of the 100 Partners "Responding to Covid-19 and Vaccination for All"
  A few days ago, CNBC announced that the Biden administration had been working to seek partners among core international private enterprises and businesses so as to jointly respond to COVID-19.
  Andy Slavitt, senior adviser in the White House, said that the members of the partnership include the Chamber of Commerce, the Business Roundtable and the National Association of Manufacturers.
  In the list of businesses and company partners released by the American Chamber of Commerce Foundation, MEBO Group was one of the first companies to be included. Altogether, there were 102 world-renowned companies in different fields, such as Microsoft, McDonald's and Bayer.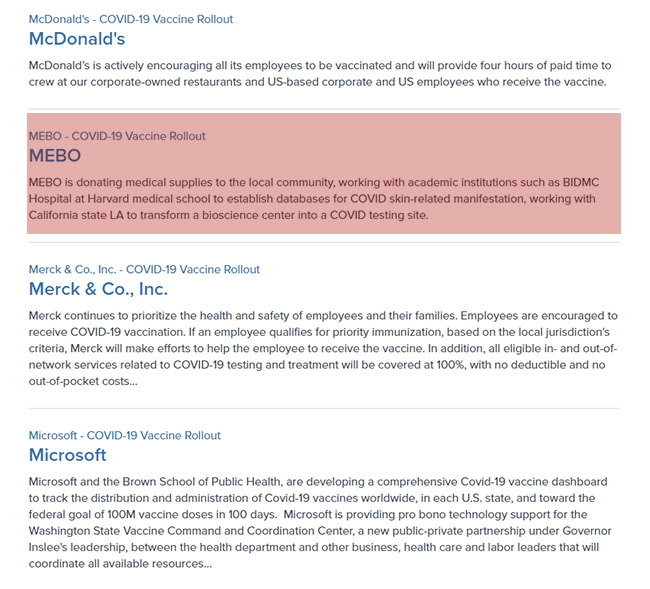 The purpose of the partnership is to call on all large companies to jointly promote public health, help reduce barriers to employees' vaccination, improve public's awareness of the importance of vaccination, and disseminate the information about wearing masks and vaccination.
  During the epidemic, MEBO Group not only donated medical supplies to the local community, but also cooperated with academic institutions such as Harvard Medical School to establish a database of skin-related symptoms caused by Covid-19 infection. It also designated the Rongxiang Xu Bioscience Innovation Center at Cal state LA as free testing site for Covid-19.