July 10, 2020
Kevin Xu Was Elected as A Member of the Bay Area Council Executive Committee
  On July 9, Los Angeles time, Kevin Xu, Chairman of the Board of Directors of MEBO Group, was unanimously elected as a member of the Bay Area Council Executive Committee. The executive committee is the senior decision-making body of the California Bay Area Committee. Only a few people are qualified for this position.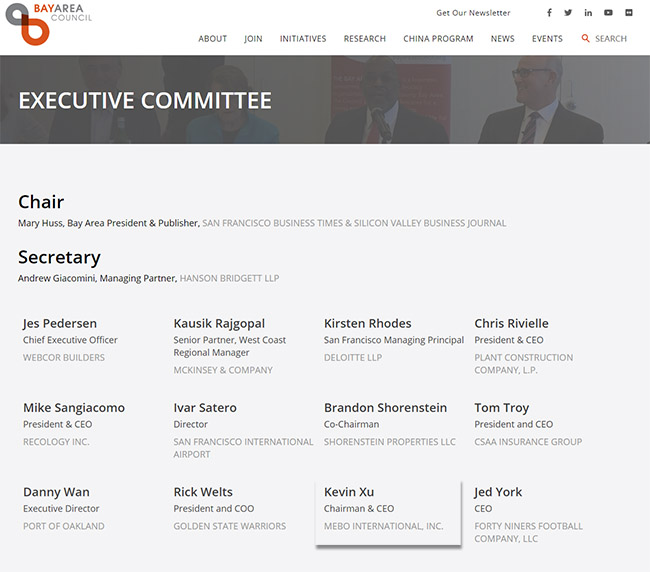 Since its establishment 75 years ago, the California Bay Area Committee has been committed to working together with leaders from different areas to assess the world's economic situation, and put forward ideas that affect the Bay Area's economy, business environment, and other social affairs, so as to make the Bay Area the most innovative, globally competitive, inclusive and sustainable development area in the world.
  At present, the Bay Area Committee has about 300 CEOs of large enterprises as its members. In the past ten years, it has set up offices in Beijing and Shanghai, and established good relations with governments at local level.
  The California Bay Area Committee has served as a bridge between California and China. For a long time, Kevin Xu has been promoting the cultural, trade cooperation between California and China through organizing various Sino-US international activities with the aid of the California Bay Area Committee.
  In November 2017, Kevin Xu was appointed as the chief advisory director of the California Bay Area Committee. Thanks to his efforts, Beijing Office of the California Bay Area Committee was established. Kevin also helped in organizing the Committee's high-level trade delegation to visit Beijing, Shanghai and Shenzhen. MEBO Group also joined the Global Bay Area Liaison (GBAL) in 2020, devoted to solving problems affecting global bay areas, particularly the Guangdong-Hong Kong-Macao Greater Bay Area in China and the San Francisco Bay Area in California.
  During the COVID-19 pandemic, Kevin Xu, with the aid of Bay Area Committee, pioneered a new path for the Sino-US joint fight against the outbreak: he organized online expert forum and the California Bay Area Committee and MEBO Group virtual forum, and set up contact point for the allocation of medical supplies.