June 20, 2019
Win-win Cooperation and Forging Ahead -- Delegations from South Korean Hantao Company and Dong Wha Pharmaceuticals visited Shanghai MEBO Life Science & Technology Co. Ltd.
  In the morning of June 19, 2019, President Tao Jingyyun of South Korean Hantao Company and delegates from Dong Wha Pharmaceuticals (Dongwha Pharma for short) arrived in Shanghai to visit Shanghai MEBO Life Science & Technology Co. Ltd. (Shanghai MEBO for short). GM Shang Qingxin of Shanghai MEBO, President Liu Gang of MEBO International Market and other leaders of MEBO Group received them warmly.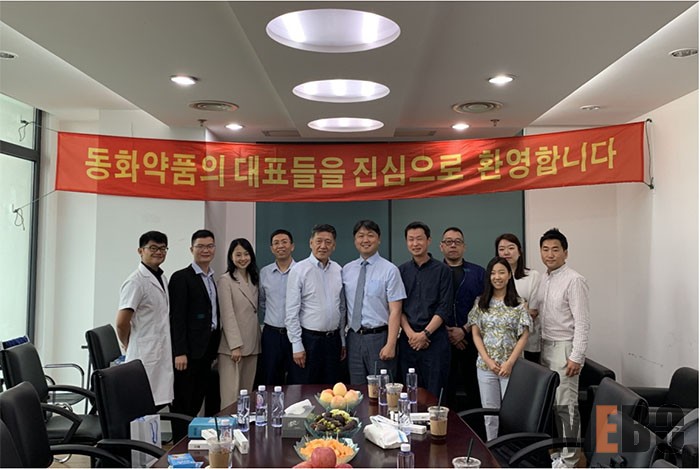 MEBO Group started its business in South Korea in 1990, and Hantao Company has been a trustable partner for 30 years. Founder of Hantao Company Mr. Tao Taijun is a close friend of DR. Rongxiang Xu, and Mr. Tao Jingyun inherited his father's business and has been providing assistances for the business development of MEBO Group in South Korea including helping the establishment of South Korean MEBO Company. In the early 1990s, after 5 years of unremitting efforts, Moist Exposed Burn Ointment (MEBO) became the only CPM product being officially registered complying with the OTC standards in South Korea, and to date, there were five large burn treatment centers and over 8000 drugstores are using or selling MEBO in South Korea. As the distributor of MEBO products in South Korea, Dongwha Pharma is a well-known pharmaceutical company with a history of 121 years and its turnover stands among the top ten in the medical industry of South Korea, and especially its OTC business has been ranked as No.1 in South Korea. During the visiting, Shanghai MEBO expressed its welcome to the coming of the guests and introduced the products and R&D achievements in the fields of medical devices and instruments, disinfectants and cosmetics. Delegates of Dongwha Pharma expressed their strong interests in some products of Shanghai MEBO.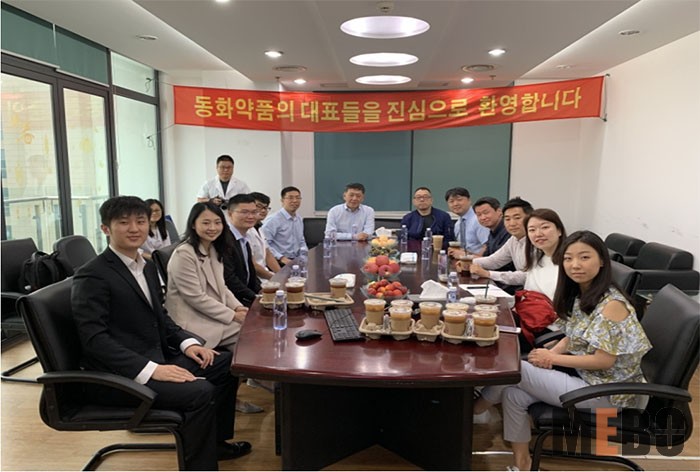 And delegates from Dongwha Pharma OTC Division introduced the cooperation history with MEBO Group and the expansion and development prospect of MEBO products in South Korean market, and also gave their advices on the upgrade of products, variety innovation, registration and etc., including the product development for sunburn injury, daily drugs for external use. Besides, the delegates also visited the R&D testing center and the production and purification workshops of Shanghai MEBO.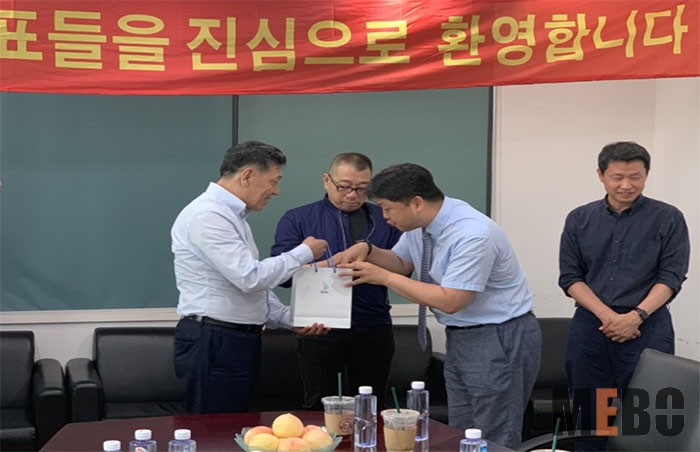 Exchanging gifts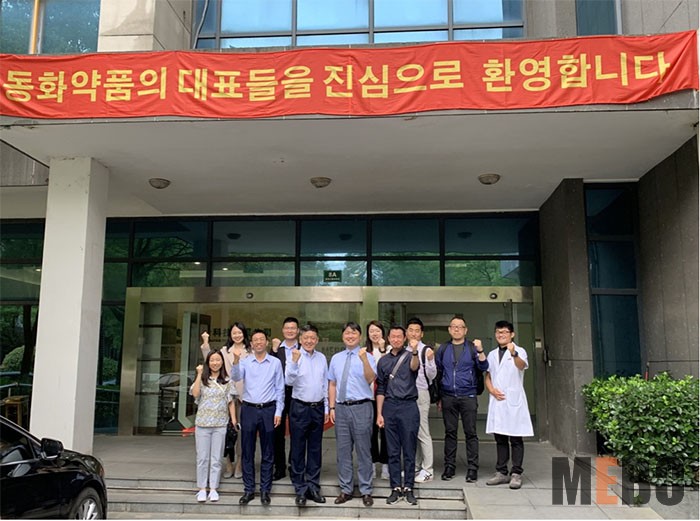 Group Picture
  At the end of the visiting, the both sides exchanged gifts with each other and the guests expressed their expectation of carrying out deep cooperation and exchanges in the future. Over the past 30 years, MEBO Group, Hantao Company and Dongwha Pharma developed together, and with the continuous deepening of the cooperation and expansion, and the establishment and operation of South Korean MEBO Company, we firmly believe that there will be more vitality and momentum for the development of the regenerative medical technology in South Korea, bringing more benefits for the world.